"IAM Honors" is the Irish Arts Minnesota's (IAM) program for recognizing a lifetime of excellence in, and service to, the Twin Cities Irish community. Irish Arts Minnesota is delighted to announce that the 2022 IAM Honors recipient is uilleann piper, community organizer and teacher Tom Klein. Tom is recognized for his contributions to Irish traditional music in the Twin Cities and across the United States. Irish Arts Minnesota will celebrate Tom and uilleann piping at a special event on Friday, Nov. 11 at the Celtic Junction Arts Center. The evening will include time for socializing as well as fne traditional music. Also featured will be performances by some of IAM's Educational Grant recipients.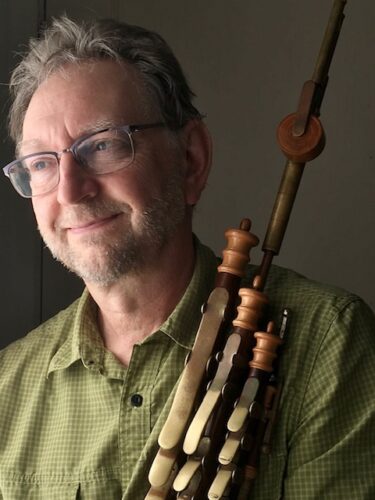 Tom has been working at the Irish pipes for much of his adult life, having acquired a practice set at age 18. The early years were truly rough: the struggle of learning -even acquiring- the instrument was harrowing…especially in Minnesota in the '70s and '80s. Those difficult, early years spurred him on to forge lasting relationships with musicians, instrument makers and event organizers both at home and abroad, so that starting the uilleann piping journey would not be so daunting for newcomers. To that end, Tom joined the nascent Great Northern Irish Pipers' Club in the early aughts. He took a leadership role by promoting the club, acquiring 501c3 status for the organization, leading meetings, and helping run the club's annual events- including Tionóil (pipers' gatherings) and public engagement activities (e.g., The Celtic Open Mic evenings).
For ten years (2007-2017) Tom served on the board of the Northeast Tionól, which hosts an annual Irish traditional music weekend in the Catskills each October. One of Tom's duties within that organization was to facilitate the acquisition of P3 visas, allowing dozens of musicians from Ireland and Europe to enter the US and perform at events and festivals. Tom has also applied these visa skills to our Minnesota Irish Music Weekend festival, even going so far as to escort an artist to the US embassy in Dublin for their required interview!
In the early '90s, Tom was a member of the local trad-ish group The Clumsy Lovers (Minnesota Music Award's Best Traditional & Modern Folk Artist recipient in 1995). He provided guitar, whistle and didgeridoo for this ensemble, and -notably- unleashed a Tuvan throat-sung version of Oh, Danny Boy upon a startled and bemused world (via a live performance on MPR's The Morning Show). Tom's enigmatic approach to Irish piping features the interplay of harmonic relationships -with some reinterpretation of the instrument itself- that embraces an array of traditions from medieval chant to classical impressionism to American military marching band and beyond.
He has performed in concert, taught workshops, or provided demonstrations at the Na Píobairí Uilleann Annual Tionól (Dublin) the Southern California Tionól, the Seattle Tionól, the St. Louis Tionól, the Willie Clancy Summer School (Co. Clare, Ireland) and The Pipers' Gathering (CT). He has recorded and/or performed with Laura MacKenzie, Dean Magraw, Daithi Sproule, Dan "Daddy Squeeze" Newton, storyteller Kevin Kling, Metropolitan Symphony Orchestra, St. Olaf Orchestra, Twin Cities Women's Choir, and The Actors Theatre of Minnesota. Tom plays uilleann pipes and cittern in The McNordiques, a Celtic-French-Nordic trio featuring Dan Newton and Renee Vaughan. He also plays pipes in The Frothy Band, an all-for-fun-and-friendship house band (Imminent Brewing, Northfield). Tom teaches uilleann piping at the Center for Irish Music.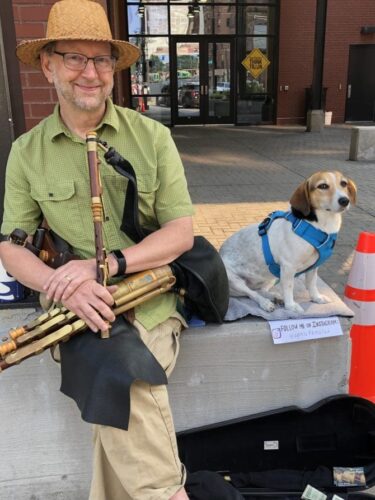 A firm believer in retail-piping, Tom has performed as a busker outside the St. Paul Farmers Market for over a decade (with his patient dog, Opal). Please join us at the Celtic Junction, 836 N. Prior, St. Paul on Friday, November 11. The evening will include performances by special friends contributing their talents. The doors will open at 7:00 p.m., with the program beginning at 7:30 p.m. Guests are encouraged to bring a dessert to share and a cash bar will be available.
Tickets are $15.00 and are available online or at the door, with proceeds benefiting Irish Arts Minnesota's Educational Grant Fund.
Online tickets available here: https://celticjunction.org/event/honors-tom-klein/